CREATE OVERVIEW WITH OUR TRACKING SOLUTION
kajoule is a tool management and tracking solution that, with the help of tracking ticks, provides a complete and up-to-date picture of where your equipment is - be it tools, machines, cars or other types of equipment. This means that employees will spend less time looking for or driving in vain for the things they need to do in their work. And that will save time and money for you and your business.
This is how it looks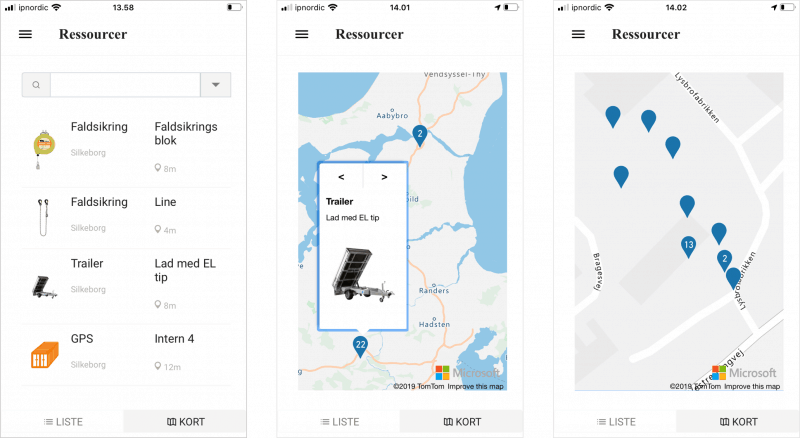 The user interface is simple and intuitive with a focus on making it easy to find what you are looking for.
The user is guided through pictures, distance to device and maps so that you can keep track of and find the tool.
A complete overview of the tools
Each unit is registered individually with associated master data, which enables you to get a complete overview as well as sorting the items by, for example, responsible, type, group or other.
Types of tracking
Kajoule supports several types of tracking devices such as:
Read more about the different tracking devices right here.
Tools can also be registered in the system without a tracking device for effective tool management with full overview in one system. It could e.g. create an overview of the total amount of tools that an employee is responsible for.
The overview is created automatically
The tracking feature is an important part of helping employees maintaining an overview of where tools and machines are now - without the employees having to do anything. By mounting a tracking device on your equipment, the location and time of the individual device are logged. It creates an overview of where all your equipment is, completely automatically - without having to constantly scan devices or keep records manually.
kajoule is a vendor-independent system - this means that you can connect all types of tracking devices in the product if the device has an open communication.
Through an app on the mobile phone employees can see who has recently been near the requested equipment and are able to contact the colleague directly via a link. The solution integrates with all open tracking ticks such as Bluetooth and GPS and integrates with the other systems you run your business with.
Kajoule can be used on both mobile and desktop - with a user interface that adapts to your screen size.
kajoule app can be downloaded now in the App store and Google play:
Simple and fast user management
Individual user management makes it easy to add new employees or subcontractors as well as remove them upon ceased collaboration.
System Integration
kajoule is based on a generic IOT platform - this means that we can connect you with your other systems.
It enables you to synchronize data between systems to increase data quality and to create a better overview.
Specifically, it provides a more flexible everyday life with fewer disruptions and increased efficiency.
New in kajoule
Based on customer needs and use situations, we continuously added functionality to kajoule. Contact us to hear more about how we can help you and your business reduce time waste and create more efficiency.
Take a closer look at kajoule